Our cover foils can also be easily peeled off. In addition to all these, it is suitable for all kinds of plastic bottles, PP, PS, PET and HDPE materials.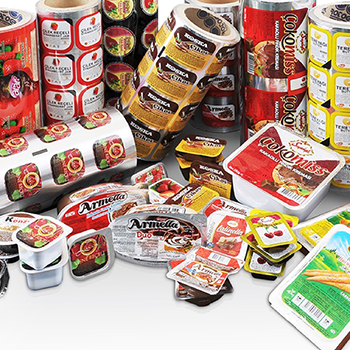 Roll stock is laminated film that has been wound onto a roll. It is frequently used in conjunction with form-fill-seal machinery. These machines are capable of shaping roll stock and producing sealed bags. Typically, the film is wound around a paperboard core.
We produce aluminum foil lids and foils, which are widely needed by the food and beverage industry. These highly durable foil lids also stand out in terms of performance and impermeability. The lids are generally heat-sealed. The thickness of the foils is between 30-50 microns. They help you cover various products such as butter, sweets, coffee, yogurt, milk, ice cream, and dry food. So, are you curious about the types of aluminum die cut foil lids? These include the Aluminum jar lid, Aluminum cheese foil, multilayer laminated foils, chocolate aluminum foils, and surprise egg aluminum foil lids. Regarding the use of these products, we can say that surprise egg aluminum foils are, as we all guess, the foil that we peel off when opening it. Thanks to its high barrier feature, it does not cause product any loss of taste and moisture. On the other hand, the chocolate aluminum foils have protective insulation and are impermeable to water vapor. It is highly preferred in tablet and single packaged chocolates. The aluminum jar lid keeps the food you put in the jar fresh and healthy. Thus, your products are securely protected.
Each product has its technical features. The aluminum lids we produce also have some technical features. Among the lids are aluminum heat film, aluminum heat seal coating, Rotogravure 10 printing color, and PET. Thanks to the aluminum die cut foil lids, which have an excellent performance, your products are protected at the maximum level. Besides, due to our commitment to the environment, we utilize recycled aluminum foils in the production of these lid types. With the help of the aluminum foil lids, the feedback on your products will always be positive. Our products, which are very simple to use, can be sealed easily. Since we prioritize customer satisfaction, we can get your order in different colors and patterns. If you want to create a safe environment for your products and prevent any foreign matter, you can surely take advantage of our aluminum die-cut foil lid products.
The aluminum die cut foil lids have a metallic surface. We are producing more than 200 different types of lids. We also use laminates, extruded materials, and insulated varnishes to seal the container material, including PVC and ABS. If you want to make use of a high-quality and robust aluminum die cut foil lid for your products, we are at your service.