Our cover foils can also be easily peeled off. In addition to all these, it is suitable for all kinds of plastic bottles, PP, PS, PET and HDPE materials.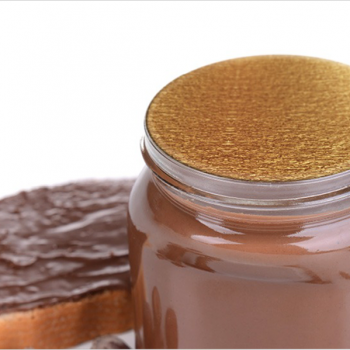 It ensures that a canned or hot food you put in an aluminum jar lid remains fresh and healthy. You can easily understand how fresh the food is from the moment you open the aluminum jar lid of your product.
Dairy products are nowadays a highly preferred type of food that is beneficial for people of all ages. When this is the case, the products need to be protected and stored for a long time. We also produce a variety of aluminum covers and films for your daily products. The cover films we produce are polymer films covered with a metal layer. They offer the shiny metallic appearance of aluminum foil with less weight and material. We produce aluminum cheese foils under this category to protect cream cheeses with triangular or other geometries from external influences. Thus, you can provide your consumers with the opportunity to consume the products until the last production date and provide reliable delivery at affordable costs. We also produce aluminum cheese foil lids that you can use not only for your cream cheeses but also for all cheese varieties. We do not leave you in a tight spot in terms of the freshness of cheese, and we protect all your daily food needs with care. Aluminum yogurt lids additionally provide yogurt with a high barrier against moisture, steam, sunlight, and harmful odors. You can become the favorite of your customers with its easy-to-open feature. Keep in mind that our aluminum yogurt containers, which have the property of adhering to all types of containers, also have embossed and non-embossed options. We produce aluminum lids not only for yogurts but also for buttermilk. Thus, plastic glasses or liter bottles you fill buttermilk do not leak even if they are shaken. Your product stays safe with the aluminum buttermilk lids we produce!