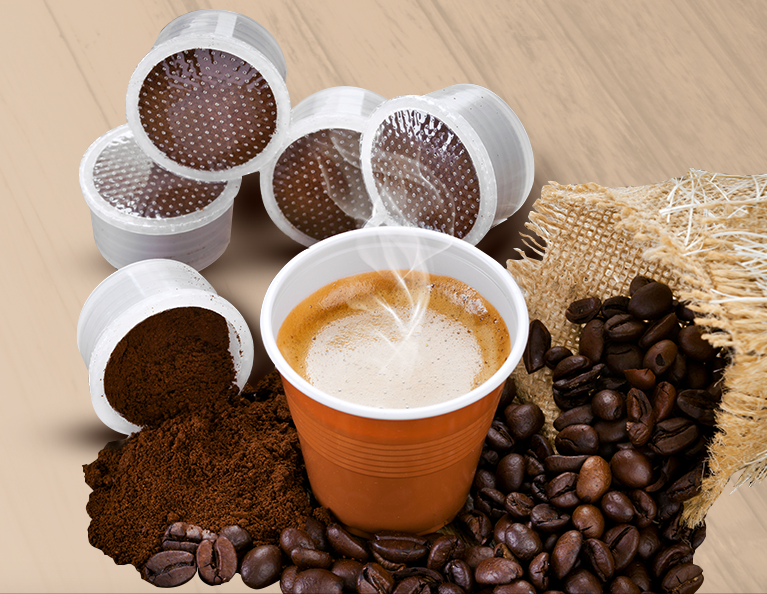 K-Cup*
Whether your office has one, a friend has one, or you've seen one at a local business, the K-Cup stand filled with unique flavors can't help but catch your eye. K-Cups have become so popular that they are now used in both commercial and personal settings. Many more quickly followed, and there are now hundreds of coffee varieties on the market. Non coffee K-Cups, such as tea, lemonade, hot chocolate, and soup, are also available.
A K-Cup is distinguished by its foil lined, ringed design and plastic cup. Other modified designs exist that do away with the plastic cup but keep the plastic ring and foil lid. All of the oxygen is removed from the K-Cups before they are sealed, which helps to preserve the grounds. The purpose of this seal is to reduce moisture and heat exposure, which could compromise the quality of your brewed coffee.
There are numerous benefits to using K-Cups. First and foremost, they are extremely convenient; all you need to do is insert a pod into the brewer and press a button. K-Cups also produce consistent results, ensuring that each cup of coffee tastes the same. Furthermore, because the pods are disposable, there is no need to clean up after brewing. A K-Cup supplier can provide you with the desired number of K-Cup pods and you can enjoy your coffee to the fullest.
K-Cup Producers
K-Cups are small plastic pods that contain coffee or tea grounds and are used in Keurig single serve brewers. In the 1990s, John Sylvan and his partner Peter Dragone invented the prototype for brewing individual cups of coffee, and Sylvan has since stated that he regrets this invention due to its environmental shortcomings. Keurig K-Cups quickly gained popularity after they were introduced to the market. K-Cups have revolutionized coffee consumption and are now available in a variety of flavors from several of your favorite K-Cup suppliers.
K-Cup suppliers have been working on developing more sustainable cup models. Some K-Cups made by some K-Cup producers are now biodegradable and even compostable. Many K-cup producers are now racing to create an environmentally friendly pod that will boost sales without increasing production costs. The range of new eco friendly products is rapidly expanding, from small K-Cup producers to larger corporations. As one of the K-Cup pods suppliers, we now have several options to reduce waste while enjoying your coffee.
There is a K-Cup for every taste in businesses and homes; for employees and clients; for parents and teens. Thanks to the K-Cups we produce as Pakroll Packaging, you do not have to be deprived of your coffee pleasure in any environment. Pakroll Packaging is one of the highest grade organic K-Cup supplier in the market. It is also one of the country's leading K-Cup producers.
K-Cup Manufacturers
Because many coffee drinkers use Keurig coffee makers on a daily basis, K-cups are in high demand. K-Cup coffee makers are popular, whether at home or at work, and K-Cups are purchased on a regular basis. As a coffee seller, you have an excellent opportunity to sell K-cups by locating private label K-Cup manufacturers.
The main brand that invented and produced K-Cups had its ups and downs at first. This was mostly due to other K-Cup manufacturers producing different K-Cups that were compatible with their machines.
We are one of the K-Cup manufacturers and suppliers of flexible packaging bags, coffee packaging bags, food packaging bags, and other items. We have years of co packing experience and are also one of the private label K-Cup manufacturers. As a private label K-Cup manufacturer, we do not have capacity constraints and can expand production as needed.
K-Cup Pods
For many of us, coffee is more than just a beverage; it is an essential part of our daily lives. It's simple to make the perfect cup at home using your favorite K-Cup pods. Because many coffee drinkers use coffee makers on a daily basis, K-cup pods suppliers are in high demand. There are so many delicious flavored coffees available, not to mention a wide range of other great-tasting beverages that can be brewed with K-Cup pods in the same machine. Nothing compares to the versatility, ease, and amazing results of brewing coffee using machines that use K-Cup pods for those who want both great tasting coffee and a healthy dose of convenience.
K-Cups pod suppliers have become so popular that they are now used in both commercial and personal usage. K-Cup Pods are a very popular way to make and enjoy coffee for a variety of reasons. One of the best parts about brewing delicious coffee thanks to K-Cup pods suppliers is how inexpensive it is. Because K-Cup pods suppliers do all of the work, you don't have to worry about wasting coffee that was brewed with too little coffee or wasting ground coffee by using too much. By brewing K-Cup Pods, you can eliminate the extra cost of your coffee habit while ensuring perfect results every time without wasting any coffee. Another appealing aspect of brewing coffee with K-Cup Pods is the abundance of low cost K-Cup Pods available for purchase. To take advantage of all these benefits of K-Cup pods, you can contact us, the leading K-Cup pod supplier.
* Pakroll has no affiliation with Keurig ® or K-Cup ®. Keurig ® is a trademark of Keurig Incorporated