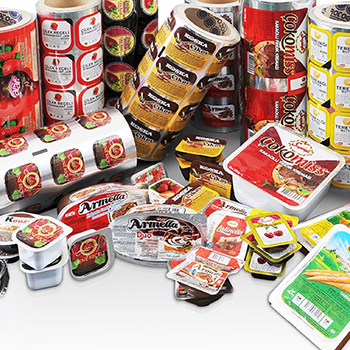 Roll Stock Film
Roll stock is laminated film that has been wound onto a roll. It is frequently used in conjunction with form-fill-seal machinery. These machines are capable of shaping roll stock and producing sealed bags. Typically, the film is wound around a paperboard core. Roll stock is frequently converted into single-use stick packs or small bags for consumers' on the go convenience. As one of the leading roll stock film producers in the sector, we also provide this service.
The advantages of roll stock packaging are worthwhile to consider. We provide a diverse range of roll stock film materials. Our cutting edge digital printing technology allows us to deliver better roll stock in record time while using less energy and producing less waste than traditional printing methods. We can create high quality printed roll stock for food, cosmetics, medical devices, pharmaceuticals, and other applications. With our outstanding privileges among many roll stock film suppliers, we can assist you in selecting the material that will best meet your packaging and manufacturing requirements.
Roll Stock Packaging
Printed roll stock is one of the most efficient and versatile packaging solutions available to manufacturers, from pet treats to coffee to snack food. It allows for quick production, superior graphics, and a variety of specifications with the possibility of roll stock film wholesale to meet your needs. Roll stock packaging is a strong alternative to boxes and blister packs, which have a greater environmental impact than necessary. When it comes to making pouches or bags for various loose foods by roll stock film suppliers, this engineered film on a cardboard roll is ideal. All of the advantages point to increased popularity and profitability of roll stock film wholesale in the future.
Aside from usability, efficiency and cost are important considerations in terms of roll stock packaging. Printed roll stock film requires far less investment than other types of packaging while not sacrificing function or style. Because of the multiple colors and the ability to print whatever is required for the product inside, it is very cost-effective for mass packaging needs.
Manufacturing and food processing companies require packaging that they can rely on and that complies with all government regulations. Our premium films and photo-quality digital printing technology ensure that your custom roll stock has a premium look and feel while providing best-in-class performance. The variety of roll stock packaging offered by Pakroll Packaging allows for seamless use with a wide range of filling and sealing machinery due to its nearly universal functionality. Only the highest quality packaging materials are available at Pakroll Packaging, and they are delivered exactly as you require them for your consumer focused products. After giving enough information about roll stock film, let's talk about roll stock film suppliers and roll stock film producers.
Roll Stock Film Manufacturers
It is no coincidence that we stand out in a market crowded with roll stock film manufacturers. For many years, Pakroll Packaging has provided high quality custom printed roll stock plastic film products to customers all over the world. The printing technology that enables us to produce cutting-edge film products with beautifully printed and appealing images is one of the pillars of our overall competitive advantage. Our improved in-house graphics and printing technology will ensure that your product stands out from the crowd on retail shelves.
Printed Roll Stock
Look no further than us if you need printed roll stock! We manufacture printed and unprinted roll stock from a variety of films, papers, and foils. In fact, we produce our own barrier films from both conventional and biopolymer resins, and we have the machinery to produce printed roll stock in a variety of widths.
A visually appealing method for brands to add their logo, artwork, and product information to the packaging of food, pet, and health products is through printed roll stock. Roll stock film manufacturers ensure that products are freshly sealed, extending product lifespan, and customers appreciate being able to easily see that product seals have not been broken.
Printed roll stock is used to package products in many industries where the packaging must be both flexible and eye catching while also meeting FDA safety standards. We print roll stock for the food, medical, and pet industries. Our custom printed roll stock offers all of the benefits of gravure printing but in flexible packaging with low print volumes. This is especially important for seasonal, short-run, or private label products that require a low cost form fill seal package. Considering all these advantages offered by our company, it is clear that we are the first address to be consulted for roll stock film wholesale.
We have the tools, equipment, and expert personnel to produce exceptional graphic reproductions on roll stock that result in superior print quality on a consistent basis. To create packaging that enhances brand identity and works flawlessly, we combine a team of highly skilled artisans with the latest technology in inks, flexographic printing presses, and high-definition plates. Our printed roll stock enables you to tailor your packaging solution to your product's specific size, structure, and quantity. Please contact Pakroll Packaging right away!