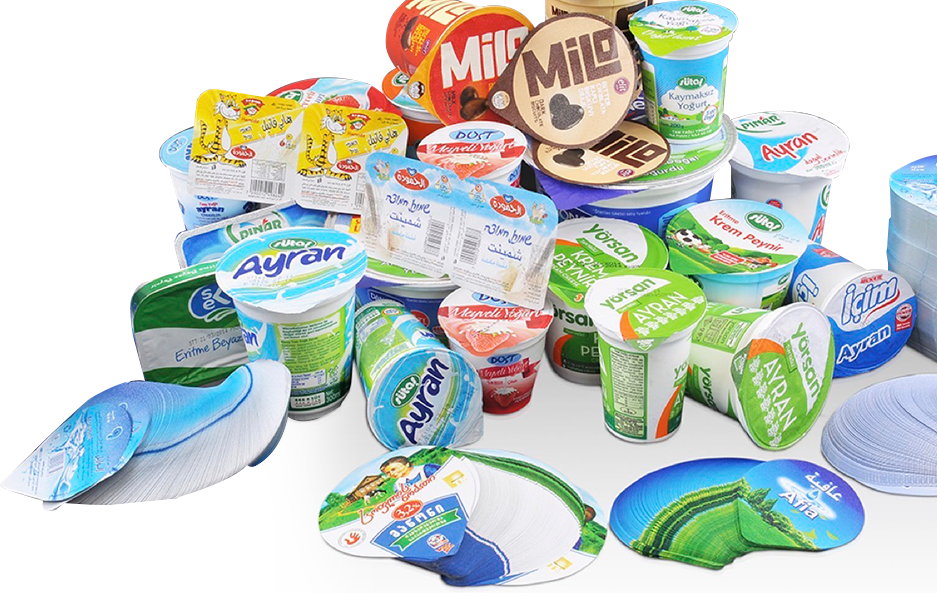 Die Cut Aluminium Foil Lids
We produce aluminum foil caps that are highly needed by the dairy, food, and beverage sectors. Aluminum foil caps play a protective role in your products. Mostly there are covers glued with heat. According to your wishes, our color range ranges from 1 to 10. Our foil thickness is between 30-50 microns. These foil caps that you will get from us; help you to close many products such as yogurt, milk, ice cream, butter, dry food, dessert, coffee.
Also, our die cut aluminum foil lids are very robust and non-venom-free. With excellent tight performance and sealing, you can protect your products at a high level. At the same time, you can make your customers happy with your product with easy-open feature.
Thanks to the aluminum foil caps you will get from us; you can easily increase product satisfaction. You can ensure that your products are closed easily. In addition to all this, you can order any pattern you want. Thus, you can add color and differences to your product. We are proud to ensure the safety of your product.
Technical Specifications
Aluminum / Heat insulation film.
Aluminum / Heat sealable polish,
Rotogravure printing 10 colors
PET / Aluminum / Heat sealable polish.
Advantages
Special ink and surfaces including metallics,
More than 200 unique and cover types,
Various embossing patterns,
Design and hinge studio to create designs,
Gravure printing,
PS, PP, PE, PET, PBT
Heat-insulating varnishes, laminates and extruded materials for sealing many container materials, including PVC and ABS,
In-house varnishing and co-extrusion capabilities.
What are the application areas?
Aluminum die-cut foil lids are widely used in many areas. As it continues its existence in every sector, it is widely preferred in the fields of beverage, fruit juice, coffee, tea, ice cream, milk, cheese, yoghurt, water, spices and cosmetics.